2000s Football Programmes
The first F.A Cup final of the new millennium was to be the last played at the old Wembley before the twin towers were pulled down. It was played between Aston Villa and Chelsea, with Roberto Di Matteo getting the winning goal mid way through the second half. The programme that was produced for the final has a nostalgic look to it features a history of the tournament at Wembley. The F.A also produced a 'limited edition' hardback version with a grey and black binding with gold leaf wording to the front cover.
2008 saw the 50th anniversary of the Munich air disaster involving Manchester United where 23 people died of whom 8 players, 3 staff and 12 others. United were to play Manchester City on the 10th Feb, the closet day to the 50th year (6th Feb), to mark the occasion United wore 1958 style shirts whilst city also wore a special sponsorless shirt.
Every fan that attended was presented with an old fashioned scarf and a copy of the programme of the first game following the disaster which was an F.A Cup tie against Sheffield Wednesday. The match programme for the day had a black border on the cover, and came with a supplement dedicated to the tragedy with the Munich clock on the front cover.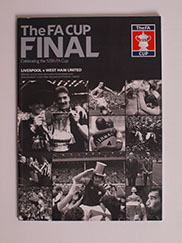 2006 F.A Cup Final Programme with ticket, Liverpool vs West Ham United
£34.99
(Approx $45 / €41)
2007-08 'Manchester United vs Manchester City' Programme and Scarf 50th Anniversay Munich Air Disaster
£59.99
(Approx $78 / €70)
2002 World Cup Japan/Korea Official Tournament Programme
£19.99
(Approx $26 / €23)
2005-06 Arsenal Member's Pack Last Season at Highbury *Brand New*
£24.99
(Approx $32 / €29)
2002 F.A Cup Final 'Arsenal vs Chelsea' Programme
£7.99
(Approx $10 / €9)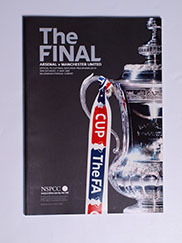 2005 F.A Cup Final 'Arsenal vs Manchester United' Programme
£7.99
(Approx $10 / €9)
2006-07 Arsenal vs Aston Villa Programne and Poster, First Game at The Emirates
£14.99
(Approx $19 / €17)
2008 European Cup Final Manchester United vs Chelsea Programme and Ticket
£74.99
(Approx $97 / €87)
2008 Uefa Super Cup Final Manchester United vs Zenit St. Petersburg
£9.99
(Approx $13 / €12)
2009 European Cup Final Barcelona vs Manchester United
£9.99
(Approx $13 / €12)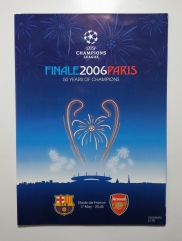 2006 European Cup Final Barcelona vs Arsenal Programme
£9.99
(Approx $13 / €12)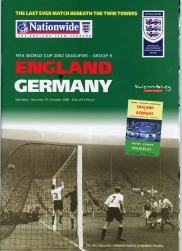 2000-01 England vs Germany Last Game at Old Wembley
£9.99
(Approx $13 / €12)