1980s Football Programmes
The 1980's were turbulent times for British teams in Europe, with Liverpool, Aston Villa and Nottingham Forrest winning the European cup 4 times between them, between 1980 to 1985 only for English clubs to be banned indefinitely from European completion after the Heysol disaster (lifted in 1990-90).
Any keen Liverpool collector will want all the European cup final programmes with 1984 being of particular interest when a rare Italian F.A edition was produced with a distinct black cover featuring the Olympic stadium in Rome, there was also a rare 'Roma Mia' edition produced with an orange cover.
November 1986 saw the appointment of Alex Ferguson as Manchester United manager, and the programme produced for his first home game game in charge is very collectable among United collectors, its features a young looking Ferguson on the cover.
The 1989 1st Division Championship was settled by a late late goal from Michael Thomas, almost the last kick of the season when Arsenal beat Liverpool 0-2 to win the title on goals scored, the programme cover from this game features of Ian Rush scoring the winning goal in the previous weeks F.A Cup final.
1981 FIFA World Club Champioship (Toyota Cup) 'Liverpool vs Flamengo' Programme
£99.99
(Approx $130 / €116)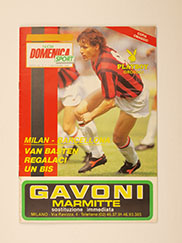 1989 UEFA Super Cup Final 'A.C Milan vs Barcelona' Programme 'Nuova Domenica' Edition
£149.99
(Approx $195 / €174)
1986 World Cup Official Tournament Brochure
£49.99
(Approx $65 / €58)
1986 World Cup Official Tournament Brochure
£44.99
(Approx $58 / €52)
1983 F.A Cup Semi Final 'Manchester United vs Arsenal' Programme
£5.99
(Approx $8 / €7)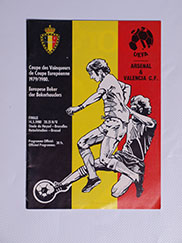 1980 European Cup Winners Cup Final 'Arsenal vs Valencia' Programme
£9.99
(Approx $13 / €12)
1986-87 Oxford United vs Manchester United 'Sir Alex Ferguson 1st Game as manager'
£79.99
(Approx $104 / €93)
1982 Panini World Cup Spain Sticker Album (empty)
£279.99
(Approx $364 / €326)
1988-89 F.A Cup Semi Final Liverpool vs Nottingham Forest
£24.99
(Approx $32 / €29)